Mobile data terminals EDA are quite expensive equipment that is used to automate the inventory process of goods and fixed assets. It is also worth mention that handheld terminals are very often used in extreme conditions, with high humidity, dust, and also at low temperatures. The human factor is also important. During intensive work, mobile terminals, industrial tablets, and even wrist terminals used with ring scanners can be bumped and dropped.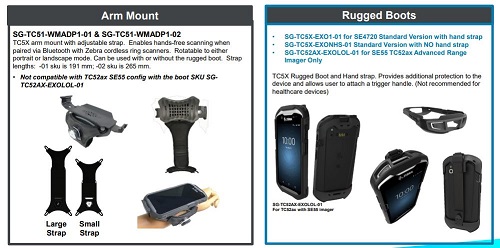 In order to protect your PDT from damage and breakdown as much as possible, it is worth purchasing the necessary accessories, such as a protective case, belt, bumper, etc. Accessories for mobile data terminals are an easy way to make them even more convenient.
The main criterion when choosing a protective case, bag or bumper for an enterprise-level device will be its reliability and functionality. A case with a shoulder strap or belt and other accessories should not only be strong and light, but also protect against falls. Rugged cases and bags for industrial tablets and EDA are optimized for frequent use. Some accessories, such as rubber bumpers, may fit several models, while others are strictly individual for certain devices due to the location of the camera, the scanning module, and the charging connector.
Since many portable terminals are used by couriers, mobile workers, merchandisers, many cradles, including stands with charging cables for charging, are designed specifically for installation on the center console of a car.
Over the years, we have tested a large number of accessories from different manufacturers, including not only cases and bags, but also non-original batteries or cradles with spare battery chargers from another manufacturer. For help in choosing - call us and our consultants will answer all your questions and select accessories even for discontinued used data terminals.