Iterator suppliers took part in No. 1 Retail Trade Fair, EuroShop 2023 in Germany. Over 81,000 trade visitors came from all five continents to be inspired by the variety of retail innovations on offer.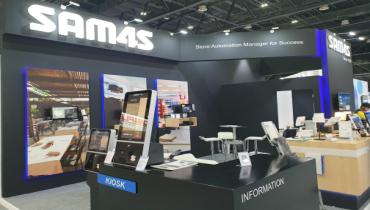 SAM4S presented strong easily integrated POS systems for a wide range of retailers. New Sapphire POS terminal is the best POS system for retail stores (fashion, grocery, gas stations, fast-food, restaurants and pharmacy) thanks to its impressive features, stylish design, and excellent value for money.
SAM4S Sapphire features the best flexible stand on the market. The model is equipped with a stand that can be bent at several points, which allows both fixing the monitor at a convenient angle and completely lowering the pos-terminal onto the desktop.
Self-service kiosk Astra from SAM4S is purpose-built for high-volume traffic in restaurants, cafeterias, Astra is easy to set up, don't take up too much space, have flexible powerful tools to efficiently acquire, serve & reengage your customers.
Also at the SAM4S booth was presented next-generation POS FORZA on new CPU Intel Celeron J6412
(Quad Core up to 2.6GHz). It enables associates to complete additional POS tasks more quickly; streamlining efficiency that leads to shorter lines and greater customer satisfaction.
Intel Celeron J6412 processors in new POS terminal Titan-S 560 specifically benefit retail companies and customers in the following manner. It enables store associates to more quickly transition between POS programs and Windows.
All SAM4S products, new Sapphire POS systems, new Astra self-service kiosks, as well as FORZA and Titan-S POS terminals, known in Ukraine, can be bought in the Iterator network of authorized partners throughout the country. As an authorized SAM4S distributor and service center, we provide warranty and post-warranty repair of SAM4S POS equipment in Ukraine.
EuroShop attracts retailers to Düsseldorf who are willing to invest, and The World's No. 1 Retail Trade Fair 2023 proved this once again.