To organize reliable operation of data capture terminals, more comfortable use, as well as to extend the life of the PDA, various types of accessories and components are provided for mobile data capture terminals, wearables terminals, vehicle computers and industrial tablets. First of all, these are batteries, communication chargers or simply battery chargers, styluses, pistol grips, belts and cases for PDAs. Optional wrist, belt, or forklift accessories provide hands-free comfort and productivity, while straps allow data terminals to be worn on the wrist and waist. Scanning equipment is easy to insert and remove from the belt, stand.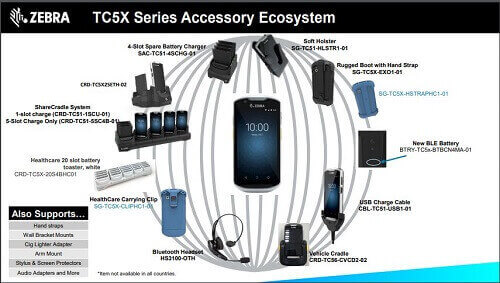 For continuous operation to the terminals, it is recommended to buy a spare battery so that at any time you can replace a discharged battery with a replacement one. Get slightly fewer hours of charge from the standard battery, or opt for an extended battery for extended hours, perfect for long or double shifts.
Mobile data capture terminals can be charged via a cable, but chargers are used to charge batteries, communication chargers are also popular, having the form of a battery charging stand with an additional slot (hole) for scanning devices. Such charging bases also come in 4 or 6 terminals. They are often used in enterprises with a large number of PDTs to save space and power from a single socket. Point Mobile's unique communication and charging cradles connect to each other and also allow you to use only one socket.
The data terminal can also be equipped with a pistol grip, which can be part of the housing or can be attached to the device if required. With an ergonomic pistol grip, you can scan a barcode by pressing the scan start button on the bottom of the body, speeding up data collection.
The Iterator company offers a wide range of accessories for mobile scanning terminals, as well as spare parts for terminals: scanning modules, keyboards, screens, housings. In addition, our service center allows you to carry out high-quality warranty and post-warranty repairs of PDAs in Ukraine. As a distributor and service center for Point Mobile in Ukraine, we quickly carry out repairs of Point Mobile terminals. You do not have to wait for the shipment and return of your devices from service centers in other countries.
By using used data terminals as donors, upon your request, we can carry out repairs cheaply, while we offer replacement of external worn parts and modernization of data terminals if the appearance of the equipment is important to you.