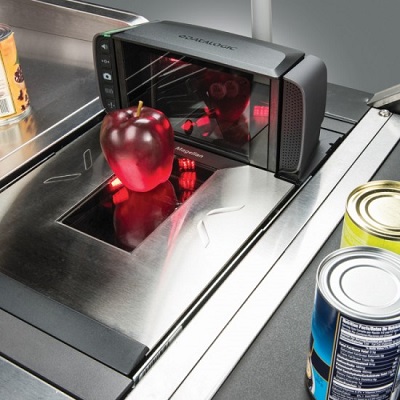 Built-in bi-optical barcode scanners are designed for checkout line of large retail chains and hypermarkets with high throughput. Bi-optic scanner eliminates traffics in high volume retail environments more effectively than fixed barcode scanners. Two large scanning windows are located in different planes - horizontal and vertical, have a wide angle of capture and a multi-plane barcode reading system, which allows you to successfully scan even moving goods from 5 sides simultaneously.
The very high speed of decoding both one-dimensional and two-dimensional 2D barcodes solves the problem of queues and increases the level of customer loyalty to the retail chain as a whole. Often the embedded barcode scanner is equipped with an additional corded barcode scanner for the customer, with which the customer can independently read the information from the screen of his cell phone, loyalty card or bonus check.
The stationary bi-optical barcode scanner can be equipped with a weighing platform of various lengths. Such a solution also positively affects the quality of customer service and significantly optimizes the work process at the cash desk.
Iterator company has its own large warehouse and carries out direct import from manufacturers, which allows us to offer you competitive prices and high quality products, and our managers will provide you with comprehensive information on any equipment and help you make the right choice. Meet the demands of your highest-volume POS lanes with simple presentation barcode scanners or next generation multi-plane 1D/2D imagers. If you need reliable POS hardware, but have a tight budget we will propose used scanners with 6 months warranty.